Ask U.S. Senators to Repeal Obamacare & Defund Planned Parenthood
The U.S. Senate will now decide the future of Obamacare and taxpayer funding of Planned Parenthood. The House of Representatives passing the American Health Care Act was just the first step to ending both.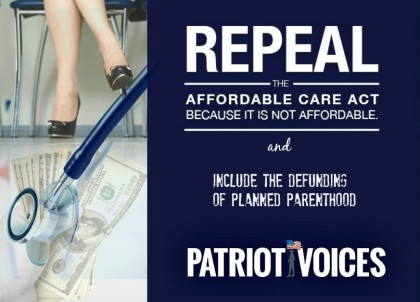 Several key Senators have stated that they won't move until they have 51 votes. We know the left is organizing efforts to lobby and even intimidate Senators to cave on these important issues. It is important that they hear from us ASAP!
Regardless of what the media is saying, Obamacare, ironically called the the Affordable Care Act, is failing. Did you know that Iowa's health exchange just lost their last insurance company leaving thousands without coverage? Kentucky only has one left and several other states are also losing insurance companies left and right. Aetna's CEO said in February that Obamacare was "in a death spiral." He was right!
You know who is hurt most by this mess? Working families who are dealing with shrinking policies and skyrocketing premiums that are impossible to pay. There is a reason that so many are taking the tax penalty instead of buying policies.
Please let your voice also be heard by sending a quick email to them today!
First, Enter Your Zip Code