Tell President Trump and Congress that you support block granting $ and control to the states for health care!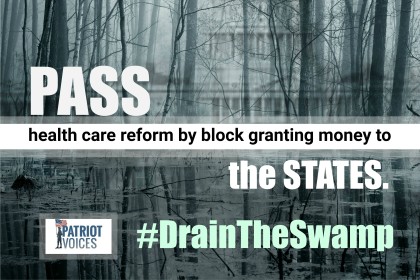 President Trump has said, "Repeal & Replace is not dead!" He has asked us to contact Congress and "demand another vote before voting on any other bill!" Use this tool to send a quick email today and let your voice be heard!
The greatest success conservatives ever had in reforming an entitlement program was the 1996 Welfare Reform Act created by Senator Rick Santorum. The key to its success was block granting the money to the states and letting the Governors make a plan that worked for their residents.
With 33 Republican governors currently in office, there will never be a better time to "drain the swamp" and take this money from Washington, D.C. and move it to the states.
On Tuesday, the White House called in Republican governors to meet and discuss how they could even improve on the Graham-Cassidy-Heller plan. This would also end any hope the left has of instituting a single-payer health care system. We are encouraged that the governors are willing to engage to try and solve this problem – something we have not seen in Washington!
As Patriot Voices Chairman Rick Santorum has been saying for a long time, he is hopeful that this approach can pass, is in line with conservative principles, and is best for America.
Join us in supporting this plan that truly "drains the swamp" and gives power back to the states. Please send an email now!
First, Enter Your Zip Code