Ask your U. S. Senators to support the Graham-Cassidy Health Care Plan!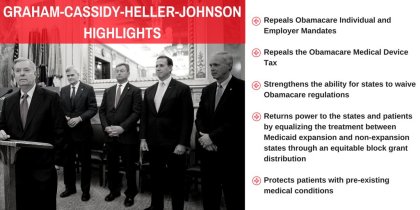 Thanks for your willingness to help get the Graham-Cassidy health care plan passed! It takes less than two minutes to send an email using this program and can make all the difference!
You can tell a lot about a bill by who is supporting and opposing it. So far, the Graham-Cassidy-Heller-Johnson bill that Rick Santorum helped create is supported by the Tea Party Patriots, Family Research Council, Susan B. Anthony List, Operation Rescue and other conservative groups. Do you know who is opposing it? Groups like Moveon.org, Organizing for America, and Planned Parenthood among others.
With all the funds in Graham-Cassidy covered under the Hyde Amendment, it ends taxpayer-funded abortion! It also defunds Planned Parenthood. This is a strong pro-life bill!
Because of the growing support, the left is now going crazy with the reality that they may permanently lose control of health care. Once we block grant money and control to the states, they will never give it back to the federal government. That means the dream of single-payer health care will be gone for good.
No wonder Senators like Bernie Sanders, Chuck Schumer, Elizabeth Warren and Kamala Harris are doing everything they can to get their supporters to contact their U.S. Senators to oppose this plan.
Let's make sure that our U.S. Senators hear from us! You can also call your U.S. Senators at 202-224-3121.
Together, we can help pass the Graham-Cassidy health care plan that will finally end Obamacare, stop taxpayer funded abortion, defund Planned Parenthood and end any possibility of single payer health care!
First, Enter Your Zip Code