Tell Congress to Fund the Paycheck Protection Program (PPP)!
Act Now!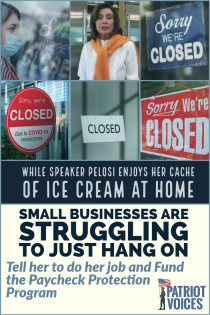 Democratic House Speaker Nancy Pelosi and Senate Minority Leader Chuck Schumer are holding American workers hostage by refusing to pass $250 billion in additional funding for the Paycheck Protection Program (PPP) - a simple 1 page bill - because they want an addition $250 billion for her own pet projects.
The PPP offers loans to businesses and forgives them if used for things like payroll, mortgage, rent, and other specific expenses. It is the perfect way to support workers, keep businesses solvent, with both ready to go back to work once the economy reopens.
In 12 days, PPP has helped over 1 million small businesses and has saved over 15 million jobs. This article explains how it works, by letting community banks make the loans: Citizens First secures $77M in stimulus loans
Enter you zip code below to send a quick email to your Members of Congress asking them to support passing additional funding for PPP!
First, Enter Your Zip Code