Let's get the Pain-Capable Unborn Child Protection Act passed in the Senate!
Act Now!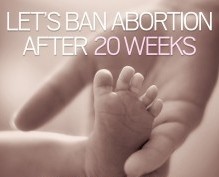 Please send a quick email to your U.S. Senators asking them to support this important bill that has just been introduced in the Senate. It has been proven that babies at 20 weeks feel pain during abortion, yet the inhumane practice of late-term abortion continues.
Currently, America is one of only seven countries worldwide (including China and North Korea) who allow elective late-term abortions. A majority of Americans from across the political spectrum support this common sense restriction on abortion after 20 weeks.
This bill passed the House of Representatives by a 237-189 margin. We now have the opportunity to get it passed in the Senate. The President has indicated that he plans to sign this into law!
While we would prefer to ban all abortion, this is at least a step in the right direction! Regardless of where a Senator is politically, they simply can't defend this horrific procedure. It is unconscionable that America has allowed this to continue for so long. It is time to end all late-term abortions!
Please send a quick email right now!
First, Enter Your Zip Code