Ask President Biden and Congress to take action against the military for coup in Burma
Let's stand for the Rohingya, Christians, and others being persecuted by the military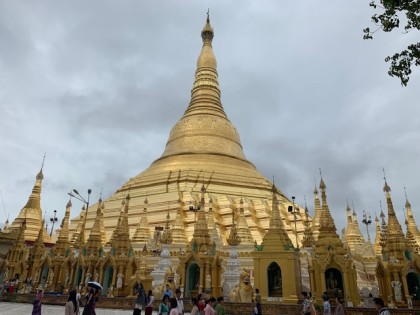 On February 1st, the Burmese military seized power in a what the U.S. Government and others have concluded is a coup arresting civilian leader Aung San Suu Kyi and other officials from the recently re-elected National League for Democracy Party.
When Burma came out of 60 years of military rule in 2011, most were hopeful that religious freedom conditions would improve as the military began a power sharing agreement with a civilian government. In 2015, former political prisoner and Nobel Peace Prize winner Aung San Suu Kyi became the civilian leader of this majority Buddhist country. Unfortunately, Buddhist nationalism has grown with radical monks using hate speech to incite violence against Muslims, Christians, and other religious minorities. To the disappointment of many, State Counselor Aung San Suu Kyi did not condemned the hate speech or the violence.
While the global community has been disappointed with her leadership, at least there was a democratically elected parliament and a growing civil society which showed some hope for the future. With the military now taking full power, it will likely mean they will continue their violence against religious and ethnic communities including Rohingya, Christians, and others.
The most egregious violence occurred in August of 2017 when the Burmese military perpetrated a genocide against the Rohingya forcing over 700,000 to flee to neighboring Bangladesh. Patriot Voices Executive Director Nadine Maenza visited Burma with the U.S. Commission on International Religious Freedom (USCIRF) in her capacity as a Commissioner. She also visited the refugee camps in Bangladesh in her own capacity, where over 1 million Rohingya Muslims live in slum type conditions.
Most of the Rohingyas she met shared how the military came in the middle of the night, attacked their families, burned down their homes (sometimes with elderly or sick family still inside), often raping the girls and women. Most had a family member killed during those few days: a husband, wife, sister, brother, parent, child. There are even reports of babies being taken from their mothers and thrown into the fire.The military continues to commit violence against the Muslims that remain in Rakhine state and elsewhere.
The military has also been targeting Christians in the Karen, Kachin, and Chan States as well as other ethnic areas. In fact, Christians reported to Patriot Voices on February 6th that the military was bombing their village that very day. With this coup allowing the military to take full power of the country, it is likely to only get worse for the religious minorities in Burma.
Last Congress, the U.S. House of Representatives passed the The Burma United through Rigorous Military Accountability Act condemning the violence, although the Senate refused to move the Burma Human Rights and Freedom Act of 2019 (S. 1186) introduced by U.S. Senators Todd Young (R-Ind.), Ben Cardin (D-Md.), Dick Durbin (D-Ill.), Marco Rubio (R-Fla.) and Jeff Merkley (D-Ore). Perhaps with this coup and fear of new violence, they will finally act.
It is important that the U.S. stand up against this coup and against the atrocities the military is committing against the Rohingya, Christians, and others religious and ethnic minorities. If we do nothing, we are sending a chilling message to the world that governments can commit the worst atrocities against their own people with no repercussions.
No one is suggesting we should send in troops, but we can sanction the military leaders who oversaw the atrocities as well as the military run businesses that enrich them. The U.S. can also support justice and accountability by helping to document these mass atrocities and publicly conclude if these fit the legal definition of crimes against humanity or Genocide.
It takes just 2 minutes using this tool to send an email to the President and your Members of Congress asking them stand up for the people of Burma, especially those who are persecuted and suffering simply because of their religion or beliefs.
First, Enter Your Zip Code