Save the Hyde Amendment
Keep our tax dollars from funding abortions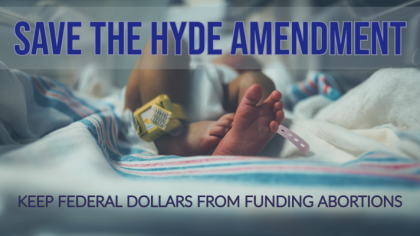 It is urgent that we ask President Biden and Congress to keep the Hyde Amendment!
Named after former Rep. Henry Hyde, this amendment bans federal funding of abortion with exceptions for rape, incest, and the life of the mother. During the campaign, Joe Biden originally said he supported the Hyde Amendment and then reversed his position after intense criticism from the left. Because of President Biden's struggle with this issue, we believe we can influence his decision if we act now!
Passed with bipartisan support, this has been a part of spending bills in Congress almost every year since 1976, even under the presidencies of Barack Obama, Bill Clinton, and Jimmy Carter.
Planned Parenthood is leading the fight to repeal the Hyde Amendment in order to make free abortion available to all – using our taxpayer money! If repealed, abortions will be covered like any other medical procedure under Medicaid.
Continuing this important amendment would go far towards President Biden's stated goal of unity.
Because of the pressure they are getting from the far left, the President and Members of Congress will only keep the Hyde Amendment if they hear from us.
Use this tool to quickly send a letter today to President Biden and your Members of Congress asking them to keep federal dollars from being used to fund abortions! Preserve the Hyde Amendment!
First, Enter Your Zip Code